Instafire: Worked Deppe Motherships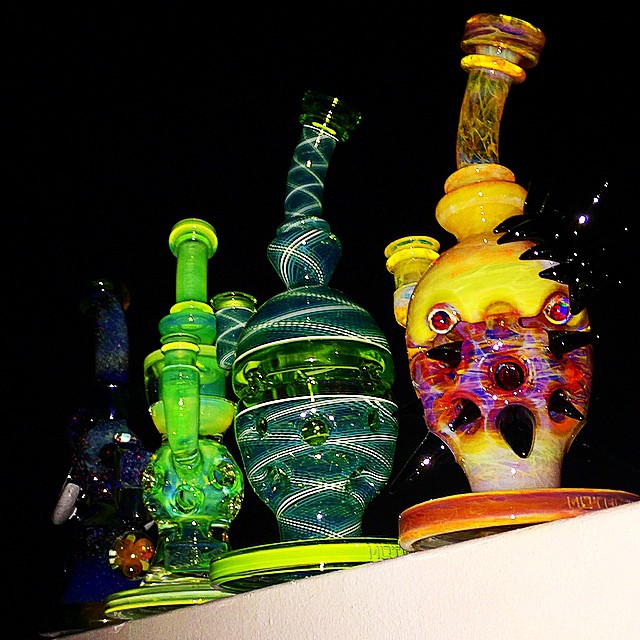 Original Photo Posted by @theglasshounds
Clear Motherships are thousands, single-colored ones are thousands more. So where does that put this pic in the pecking order?
So, here we have some Instafire quite literally in a league of its own. If you don't know exactly what you're seeing, you're likely still saying wow, nice. If you do know what you're looking at, you're prob still scratching your head like I am and thinking, "OK, WTF?"
I've told you many times, clear Motherships are thousands. I've also told ya that single, colored ones are even thousands more. So where does that put this pic in the pecking order?
I'm pretty speechless…
I don't know who the @theglasshounds are, but I sure intend to find out. That's not a head shop – not that I've ever seen this many anywhere – it is someone's shelf, and copiously placed at that. This is an absolutely insane collection of Scott Deppe, CEO of Mothership Glass, fully-worked Motherships. There's also probably a BMW worth of glass there. #Glassturbate
I will post the original link to this article below.
Source:
http://www.weedist.com/image-post/insta ... therships/
Its really awesome to see how far mothership has come in just a few years. For some corrections to the article not all the pieces are made by Scotte Deppe CEO of "Mothership glass". Jake C made the first two in the picture I know that. Also it says all of the pieces from the pic are probably a BMW worth of glass, I'm sure there is a BMW worth all 4 but you could most likely buy a BMW with one or two of them.
Its interesting to see a brand take the route of perfection vs putting out a mass number of imperfect pieces. Reminds me of Louis Vuitton on the quality control level. Mothership really is the Designer glass brand of our time. -Borobook.